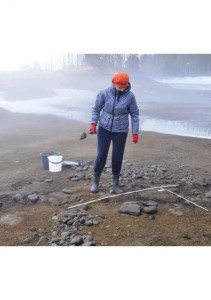 Here I make an archaeological excavation on the bottom of a sea, where the water temporarily has sunken. I uncovered two square metres of "nothing"; sand and stones, and the remains of a burned stump as if it was highly interesting cultural layers filled with artifacts. This piece of work discusses and criticizes archaeology and it´s obsession to discover and thereby destroy the material memory of the earth.   It is a sub-project in my Artistic Research Project The Poetics of Space, placed at The Swedish Museum of Architecture in Stockholm (www.arkitekturmuseet.se). I undertake a full-scale inverted excavation of a now lost historical site in a suburb to Stockholm, where the cultural history of the landscape has been erased related to an large scale exploitation period in the 70-ies, and was considered uninteresting and not worth to document before the removal. I criticize and question how we elevate certain artefacts and remains to monuments while others just are removed and forgotten. The cultural heritage of the anonymous material culture of everyday life in my project is celebrated and juxtaposed to contemporary governemental cultural heritage politics.
Här utför jag en arkeologisk utgrävning på botten av en tillfälligt torrlagd sjö. Jag frilade två kvadratmeter av "ingenting"; sand och stenar samt lämningar efter en brunnen stubbe som om det var högintressanta kulturlager fyllda med artefakter. Verket diskuterar och kritiserar arkeologi som vetenskap och dess besatthet att upptäcka och därmed förstöra jordens materiella minnen.
Detta är ett delprojekt i det konstnärliga forskningsprojektet The Poetics of Space, placerad på Arkitekturmuseet i Stockholm (www.arkitekturmuseet.se). Jag utför en storskalig inverterad utgrävning av en nu försvunnen historisk plats i en förort till Stockholm, där det kulturhistoriska landskapet har utplånats i samband med anläggningen av miljonprogramsbebyggelsen under 1970-talet. Byggnaderna och deras verksamheter och ansågs ointressanta och inte värda att dokumentera före bortförandet. Jag kritiserar och ifrågasätter hur vi upphöjer vissa artefakter och historiska/förhistoriska lämningar till monument, medan andra bara tas bort och glöms. Kulturarvet i form av vardagens anonyma materiella kultur lyfts i mitt projekt upp och ställs emot den samtida kulturarvspolitiken.