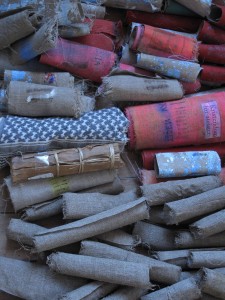 SKRUD är en monumental textil installation som producerats för Jämtlands Läns Museum med anledning av 100-årsjubileet av Överhogdalsbonadernas upptäckt år 1910, och visades juni-okt 2010 på Länsmuseet i Östersund.
Verket tar sin utgångspunkt i Överhogdalsbonaderna, daterade till övergången mellan vikingatid och tidig medeltid, och gestaltar ett konstnärligt utforskande av berättande, relationen mellan kulturella och personliga minnen och tidskonstruktion. Verket består av fyra långa vävnader i lin med berättande motiv, total närmare 40 meter tyg, som monteras runt ett rums väggar och får inrama detta. Motiven är en blandning av kopior av motiv från Överhogdalsbonaderna, Osebergsbonaderna, samt förhistoriska och historiska handskrifter från kristen och islamisk tradition. I mitten i rummet ligger tusentals ihoprullade textilier samt mina personliga dagboksblad under arbetsprocessens två år. Dessa får respresentera alla berättelser som finns, som är försvunna, som vi ännu inte hittat, och så de som aldrig kommer att hittas. En videoinstallation visar arbetsprocessen vid Tåsjöns strand, norra Jämtland. Det offentliga och det privata kopplas samman och problematiseras. Referenser kan göras till antika skriftrullar, illuminerade handskrifter, heliga skrifter från olika kulturer, samt till muntliga berättelser som traderats från generation till generation.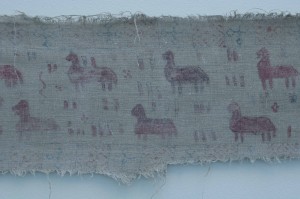 SKRUD is a monumental textile installation produced for Jämtland´s County Museum, Östersund, Sweden, on the occasion of the 100th anniversary of the discovery of the Överhogdal Tapestries in 1910, on display June-October 2010.
The site-specific installation is based on the Överhogdal tapestries, dated to the shift between the Viking Age and the Early Middle Ages, and portrays an artistic exploration of narrative, the relationship between cultural and personal memories and concepts of time. The work consists of four long weavings of flax with narrative motifs, totally around 40 metres of cloth, which run around the room's walls and frame it. The motives are a mixture of copies of the motifs from the Överhogdal tapestries and from the wall-hangings from Oseberg, Norway, as well as prehistoric and historical manuscripts from Christian and Islamic traditions. In the middle of the room, thousands of rolled textiles are placed together with pages from my personal diary from the two years of the production process. These represent all the stories that are told, those who are missing, and not yet found, and then those who never will be found. Private and public spheres are here linked and problematized. References can be made to ancient scrolls, illuminated manuscripts, sacred texts from different cultures, as well as oral and personal narratives that have been transmitted from generation to generation.