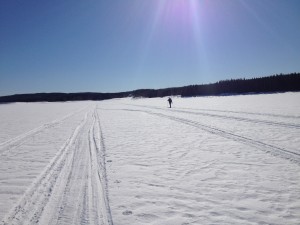 The Artistic Research project Post Nomadic Landscapes, funded by the Swedish Reseach Council, was placed at the Swedish Centre of  Architecture and Design 2013-17, Stockholm. The project investigates collisions in attachment patterns towards land and landscapes in the area of southern Lapland, Sweden, in Post Colonial Feminist perspectives.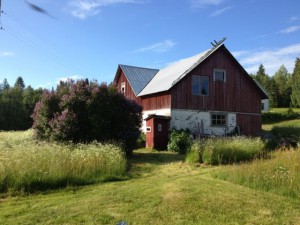 The project is centered around a ski trip from the prehistoric Sami Central place Långön, near the little village Järvnäset where I live today. The trip ends som 80 kilometers North- East, in the former Sami lands of Åsele lappmark, where my Forest Sami ancestors lived for hundreds of years.
The project is characterized by practice-based artistic research, researching by making, not theorizing. The project ended up in a travelling exhibition shown at Vilhelmina Art Museum, Dorotea Art Association, Lycksele Art  Association and The Graphic Society in Stockholm. Accompanying this, I made a book.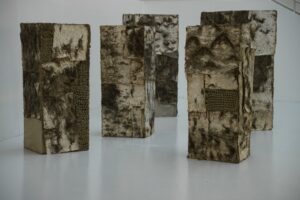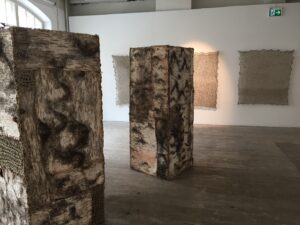 Post Nomadic Landscapes. A monumental installation in the materials birch bark, linen, crocheted hemp yarn, steel and wood.
The textile sculptures Viste/Dwelling, represent a collision between traditional Sámi architechture and aestethics from the 1970:ies. 180 x 90x 90 cm each. The structures are sewn on bodies of steel.
The wooden, three dimensional map, has the title Wuaddi, that meens a flat even land in Umesami, the language of my ancestors. Wuaddi (Stöttingsland in Swedish) was the land of my family for many generations; Erik Persson Almark among others. He is also the ancestor of Elsa Laula (1877-1931), the first Sami activist.